An impressive approach leads up to the Cavern through a gorge beneath Peveril Castle
The largest cave entrance in the British Isles, 100m long, 20m high and 35m wide. It contains the remains of a rope makers village within.
The entrance was used from 1642 to 1880 by rope makers, making rope for the lead mining industry around Castleton. Rope making ended with the onset of the First world War
A memorial to the last of the rope makers is on the rope walks. Bert Marrison was born 1884, started work at the age of 8 years and retired in 1974 aged 89. He died in 1983 and his memorial plaque is marked with a candle within the entrance.
There are large flow stone stalactite formations in the entrance
Early visitors were the Gentry and other wealthy people and were taken into the cave by the rope makers using only candles for light
The visitors entered the great cave by boat crossing the first water and being pushed by the rope makers through a very low archway
1842 a small passageway was blasted out for the second visit of Queen Victoria by- passing the first water
Up the right hand side of the Great Cave is a pathway to the top of the chamber, where a tunnel leads into the Orchestra Gallery. This was used by the rope maker's children, they would climb this path to stand in the Orchestra Gallery and sing to the visitors.
The cascade of water in Rodger Rains house is the result of a stream sinking into the ground directly above from "Lady's well" spring in Cave Dale.
Pluto's Dining room has very small stalactites due to an impervious layer of lava above the limestone
On the wall in Pluto's dining room there is writing, some of which dates back to the Middle Ages
The highest vertical chamber in Britain "Titan" was discovered January the 1st 1999 by Dave (Moose) Nixon in the further reaches of the Peak Cavern system
The Devil's staircase leads on to a further 13 miles of natural cave system. It links with Speedwell Cavern and is the longest cave system so far discovered in Derbyshire.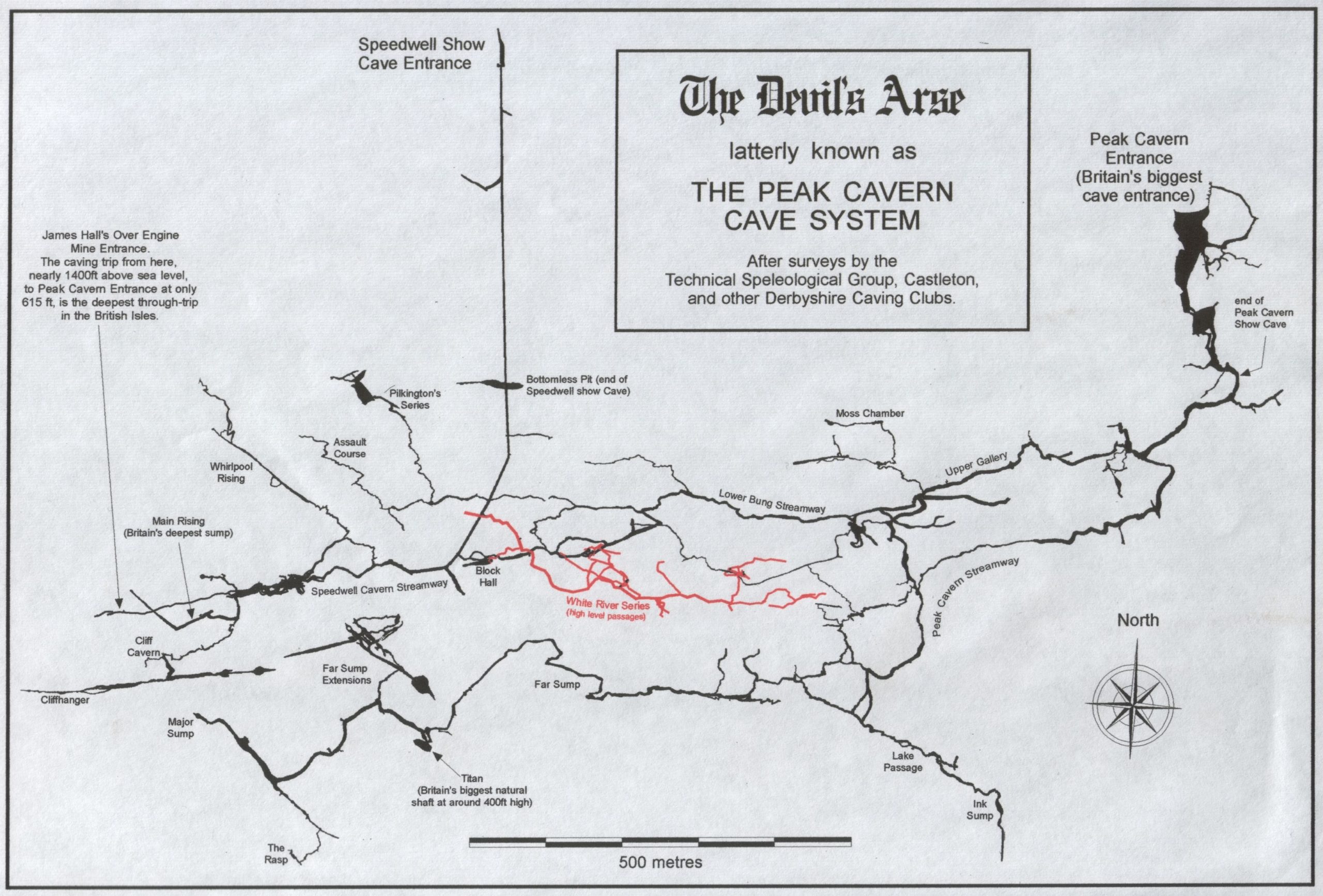 Filming that has taken place in the cave including Chronicles of Narnia The Silver Chair, Clash of the Santa's, Sherlock Holmes, The Medieval Mind , Most Haunted, and Countryfile
Cave exploration is ongoing in the Peak Cavern system, and information on current exploration projects, such as Ink Sump, is displayed in the Cavern entrance
Carl Moritz visiting the cave in 1782 described it as "an abode of silent horror"
Peak Cavern is one of the most written about caves. Visiting writers included Daniel Defoe, Lord Byron, Arthur Conan Doyle, Gervase of Tilbury, Thomas Hobbs, Charles Cotton and Carl Phillip Moritz
Photographs courtesy of Chris Hanley and Mark Burkey.