Our Tours
The intriguing subterranean world of the Devil's Arse awaits. Our professional guides will walk you through the system, re telling the history of the Peak Cavern rope makers. An hour long tour, witnessing how rope was made for lead miners and the fascinating folklore of the Victorian tour guides. Find out how and why the cave got its unusual name.
Summer season tours are daily on the hour.

The first tour starts at 10am, the last tour starts at 4pm. Book online to guarantee a tour time to suit you. 

Tours last approx 60-75mins

Tours start on time. Allow plenty of time to travel and park in Castleton, especially so at weekends and school hols. If you miss your tour, we cannot guarantee transferring you to a later tour that day. There will be no refunds.

Well behaved dogs are welcome on a short lead.

We are not connected to a mains water supply, so we have no toilet facilities at the cavern.

The tour is fairly undemanding on foot. There are a few steps with hand rails. Nothing too steep. The floor can be wet and uneven in places. The temperature is a chilly 9°c inside the cave. We have one small 30m section of cave where you will need to bend over to navigate through. Unfortunately wheelchairs and pushchairs can't be taken beyond the cavern entrance. We are happy to advise you. Please call the cavern if you have any questions.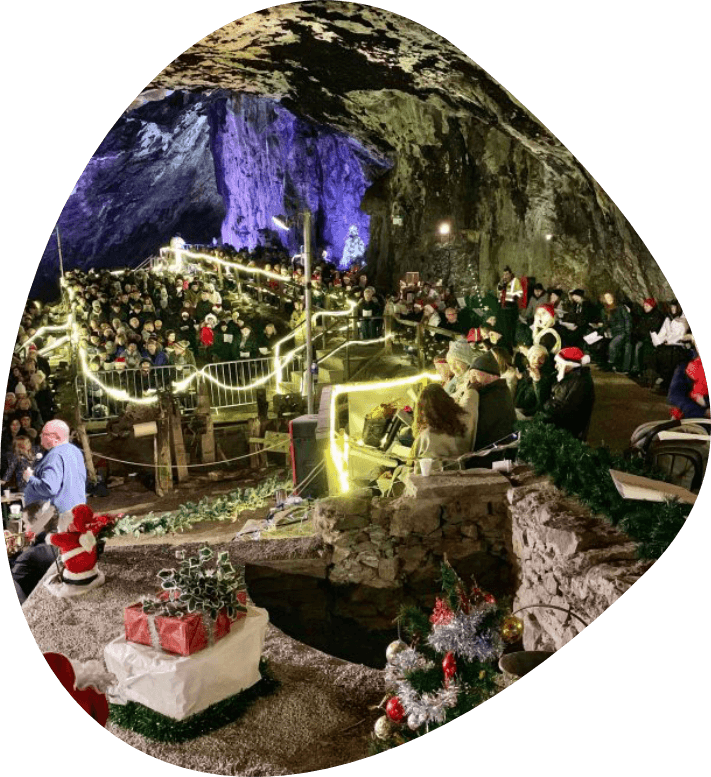 Christmas Carol Concerts.
ALL 8 CONCERTS FOR 2023 ARE NOW FULLY SOLD OUT.
It's hard to imagine a more atmospheric and impressive venue for a Christmas Carol concert. On arrival you are greeted by our warm and friendly helpers with mulled wine and mince pies. The Brass bands, aided by our compere Barry Jarvis, play a variety of Christmas favourites, both modern songs and traditional carols. Best of all, the audience are enthusiastically involved in the singing. The mixture of humour and energy makes this the perfect festive fun in the run up to Christmas.